Difference between revisions of "Admin Panel 2: eAccelerator cPanel"
Jump to navigation
Jump to search
 

(Removed excess category tags)

 

Line 46:
Line 46:





[[Category: UniCenter]]

[[Category: UniCenter]]

[[Category: New Users]]

[[Category: Support]]

[[Category: About]]

[[Category: Facts]]

[[Category: Troubleshooting]]
---
Latest revision as of 10:12, 21 June 2013
eAccelerator cPanel
Enabled by default eAccelerator is a PHP accelerator that compiles scripts and saves them to a memory cache. The control panel allows you to view cached information and control its operation.
eAccelerator logs data to the Apache log file you may wish to turn this facility off see Error log viewer for details.
Logging
Note: eAccelerator dumps "hits" as well as errors to this log file resulting in a build up of data and to some extent masks real errors hence it has been disabled as default.
If you are trying to resolve issues that you believe are cause by eAccelerator you can temporarily enable error checking.
How to enable eAccelerator logging open file php.ini located in folder *\Uniform Server\udrive\usr\local\php
Change the line shown in bold and set the value to 1:
[eaccelerator] extension=eaccelerator.dll
eaccelerator.allowed_admin_path=/home/admin/www/plugins/eaccelerator/control.php
eaccelerator.debug = 0
;Local Variables:
;tab-width: 4
;End:
eaccelerator.debug = 0 Disable logging
eaccelerator.debug = 1 Enable logging
If you are running on a USB stick its a good idea to have it disabled.
Initial Page
Below is an image showing part of eAccelerator's cPanel note the action buttons.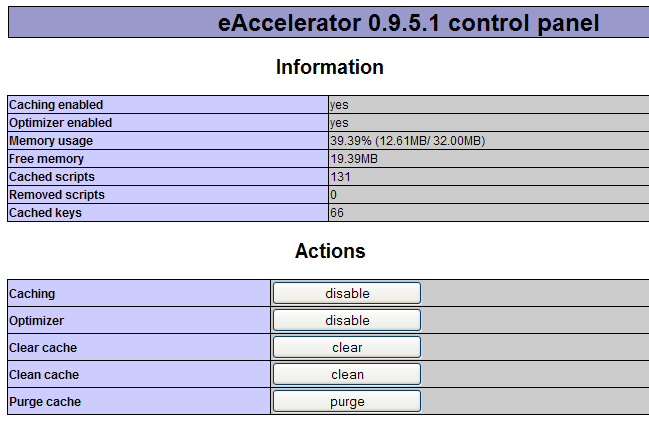 ---